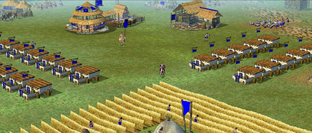 The Copper Age (5000 BC - 2000 BC) is the third age in Empire Earth and second age in Empire Earth II.
Empire Earth Overview:
Edit
It is the age in which most buildings, including wonders, become available. It also allows you to recruit heroes and build farms, that will be your main foodgathering method for the rest of the game. Naval units will also develop here, and will last so until atomic ages.
The previous Epoch is the Stone Age. Next epoch is Bronze Age.
Buildings
Edit
Empire Earth II Overview:
Edit
(Under Construction)
Ad blocker interference detected!
Wikia is a free-to-use site that makes money from advertising. We have a modified experience for viewers using ad blockers

Wikia is not accessible if you've made further modifications. Remove the custom ad blocker rule(s) and the page will load as expected.