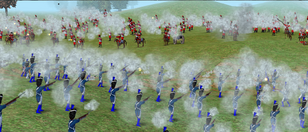 Imperial Age (1500 - 1700 AD) is the 8th epoch in Empire Earth. It focuses on gunpowder warfare, as archer units
dissappear completely and melee units are downed to 2. On the other hand, infantry choices have increased dramatically.
Ad blocker interference detected!
Wikia is a free-to-use site that makes money from advertising. We have a modified experience for viewers using ad blockers

Wikia is not accessible if you've made further modifications. Remove the custom ad blocker rule(s) and the page will load as expected.